Filter by Category
Devising
Homeschool: Page to Stage
with Gina Barba

Jan 9, 2024 at 10 am

, runs for 10 weeks
Ages 8-12
Transform a poem into a unique story for the stage! In collaboration with your peers and teaching artist, create a one-of-a-kind play based on the texts of beloved poets like William Shakespeare, Shel Silverstein, Emily Dickinson and others. Learn the basics of script writing and dip your toes in the world of devised theatre. Take on the role of a playwright, director and actor to create a completely original performance to share on the final day of class.
Will run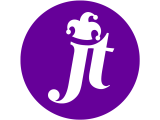 Stories on Stage: Diary of a Wimpy Kid
with Gina Barba/ Shawn Foote

Jan 10, 2024 at 4:30 pm

, runs for 10 weeks
Grades 4-6
Navigate the wacky world of Westmore Middle School with friends like Greg Heffley and Rowley Jefferson. Learn the fundamentals of working with a script and analyzing a character as you rehearse and perform scenes inspired by Jeff Kinney's iconic book series. Celebrate JT's upcoming production of Diary of a Wimpy Kid by bringing Greg's stories to life and showcasing your piece for family and friends on the final day of class! ZooWeeMama!
Will run